the ACOUSTIC GROOVE EXPERIENCE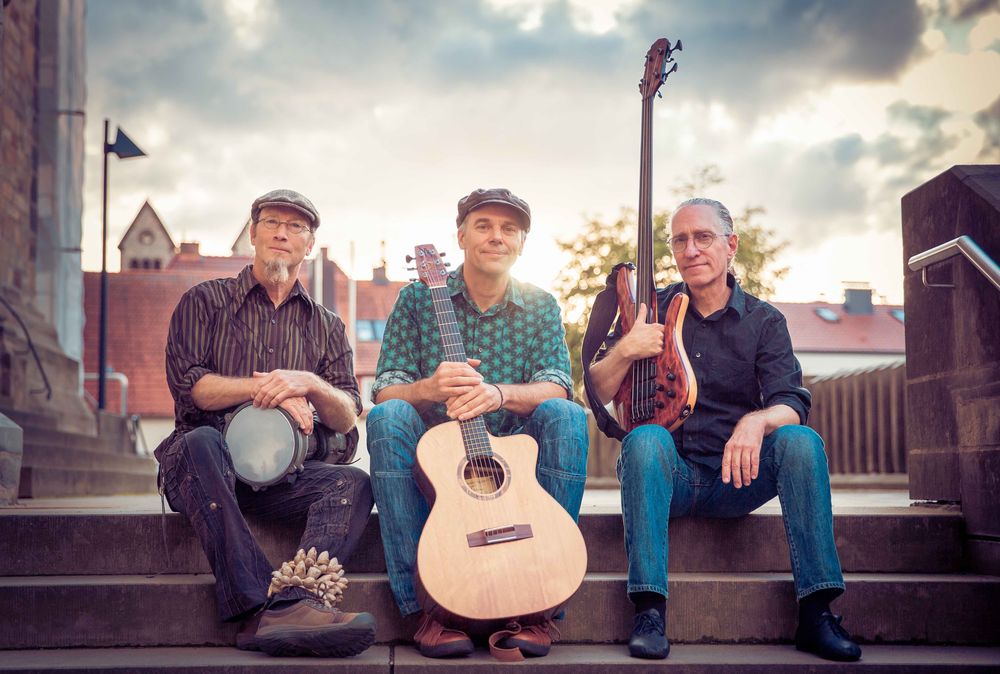 What do Tony K, Michael Manring, and Jarrod Kaplan have in common? Besides being way less attractive than Shakira, they all stand out as exceptional innovators of their hand craft at a time when so much blends into  the realm of formula and in-distinction.  They have been collaborating on stage and in the studio for the past decade and continue to create absolutely stunning instrumental music that moves the body, mind and soul in equal measure.  The band can best be described as an acoustically influenced effervescent power trio for the 21st century. Their new CD, The Thread of Joy, is out now and is receiving great reviews.
Hailed by many as the world's leading solo bassist, Michael Manring has been pushing back the boundaries of what's possible on the bass guitar for over four decades. He has honed his skills on hundreds of recordings as a session musician and thousands of concerts throughout the world. Always adventurous, Michael has worked with a surprisingly diverse collection of musicians from New Age keyboardist Suzanne Ciani to avant-improv guitar innovator Henry Kaiser to celebrated folk troubadour John Gorka to electro-pop pioneer Thomas Dolby.  His long-term collaboration and close friendship with the late acoustic guitar genius Michael Hedges led to a lengthy stint as house bassist for Windham Hill Records; a label for which he also worked as a solo artist. He has garnered two Gold Records, Grammy and Bammie nominations, a Berklee School of Music Distinguished Alumni Award and numerous Bass Player Magazine Reader's Poll Awards including 1994 Bassist of the Year. "Forget his astounding technique, musicality and absolute command of his instruments; ...The enlightenment comes most from feeling the joy Michael feels to be playing...his brand of transcendental chops and musical understanding...is all in the servic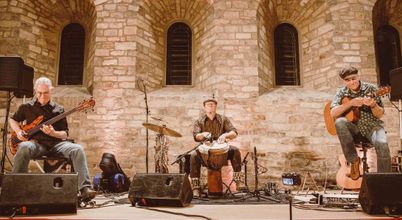 e of the final outcome, the joy of making music." (Tom Darter, Keyboard Magazine).
Jarrod Kaplan has earned a great deal of notoriety as the percussionist for Seattle based acoustic groups, Trillian Green, Devachan, Hanuman, and Taarka. He is known for his very lively and multi-genred approach so much that whenever he shows up at a music festival, he inevitably ends up as the session percussionist for many bands of all types. Jarrod has performed and recorded with many renowned acts including: The String Cheese Incident, Keller Williams, The Fareed Haque Group, The Motet, The Tony Furtado Band, Artis the Spoonman, The California Guitar Trio w/ Tony Levin, David Jacobs-Strain, among many, many others. If you've ever been to a music festival in the western United States, you've probably seen him perform, or at least felt his beat coming from somewhere in the distance.
Tony Kaltenberg has been one of the most distinctive sounding acoustic guitarists and composers on the circuit. His mesmerizing percussive style has been highlighted on radio programs and television (WDR Germany) as well as performances worldwide, such as the Northwest Folklife Festival in Seattle, The Oregon Country Fair, the Dresden Guitar Festival, and intimate venues in the U.S. and Europe. He has collaborated with several renowned artists including Joe Craven (David Grisman Quintet, Jerry Garcia, Allison Brown …), Alex Kelley, Mathias Brodowy, Laura Kemp, Andy Lindner, Tina Werzinger … The sounds he coaxes from the guitar range from sweet, warm finger-styles, to deep, percussive string slaps, from long mystical threads, to rhythmic explosions. "Few understand how to play the six strings as virtuous … you think an entire ensemble is playing, so diverse is the music … next to the rich harmonic variety are solid bass lines, over which lie breathtaking melodic playing, which leads the listener to wonder, how all that comes from just two hands …" (Manfred Stieneke, Westfalen-Blatt)